If your mounted TV looks anything like this, then you may want to consider some cable management. Not only are dangling cables an eyesore, but they can also be dangerous to kids, pets, or your intoxicated friends on game night. Relax, Steve, it's just UNO! Long story short, you should hide those things. TV cable management can feel like a daunting task, but it doesn't have to be. Here at ECHOGEAR, we specialize in creating DIYer-friendly wire hiding options specifically for wall mounted TVs.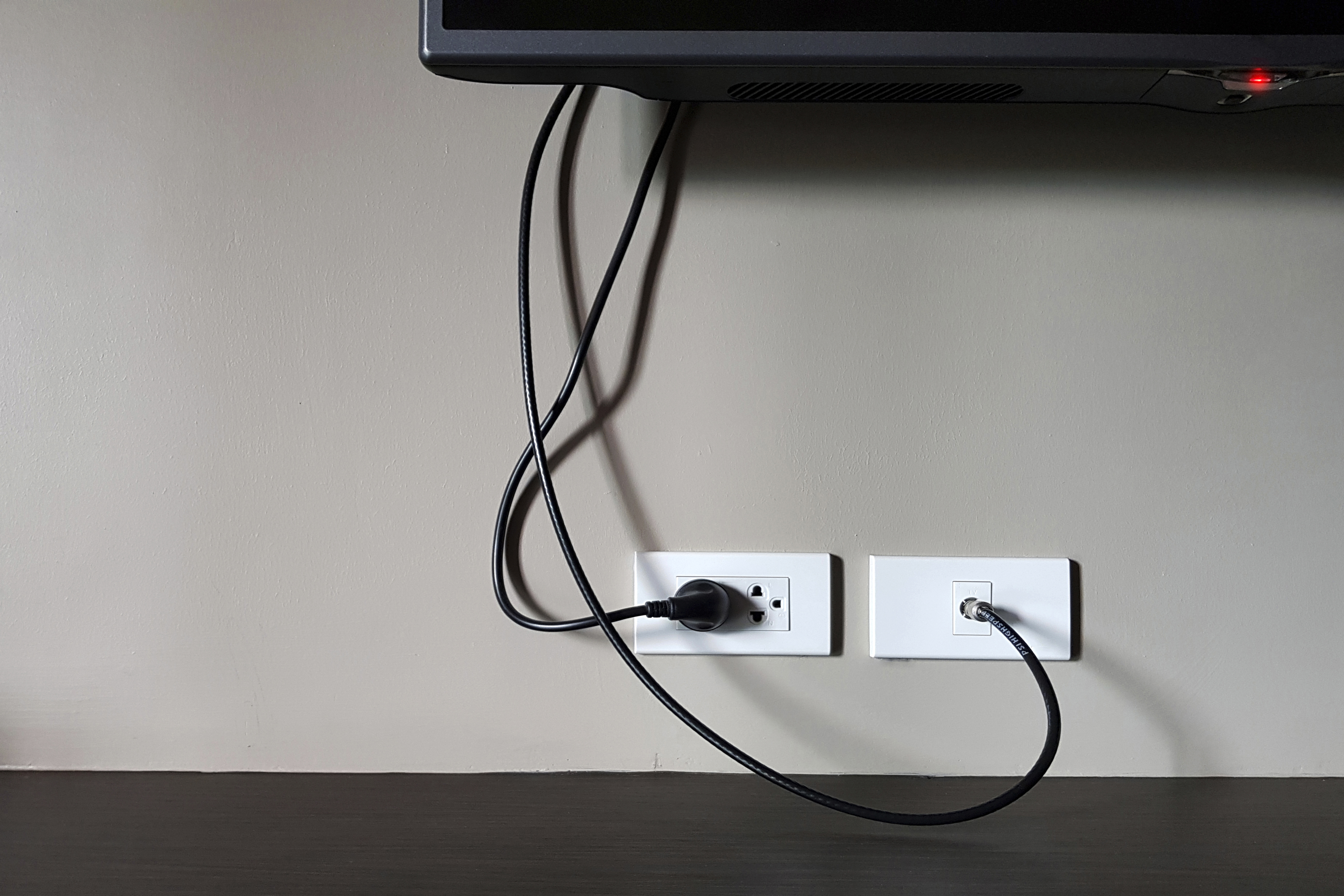 When it comes to TV cable management, there are two choices: in-wall and on-wall. In-wall cable management completely hides wires behind the wall. On-wall conceals the cables with a cover designed to blend in. They are both great options, but keep reading to learn which is best for your setup.
In-Wall Cable Management
In-wall cable management solutions make cords completely disappear. However, they require a bit more work than on-wall options. Yes, you will need to cut holes in your wall, but this isn't as scary as it sounds. If you have a few basic tools and 30 minutes, hiding your TV cables can be done by any DIYer.
Before we go any further on in-wall options, we should mention that some apartments and rental homes don't allow you to cut holes in the wall. Check in on your lease agreement so you can avoid unnecessary move-out costs. We all know you want more of your damage deposit back and that wine stain on the carpet is pretty obvious.
All good to make a few holes in the wall? Cool. If not, head on down to the on-wall cable management section.
Not all in-wall cable hiders are created equal. There are rules here people! Here's a quick checklist to make sure you're hiding your wires safely.
Know what's behind your wall
Use only in-wall rated power cables
Avoid running cables near electrical lines
Inspect all of your cables before you run them
When it comes to picking which cable management kit to use, the most important thing to consider is what type of cables you will be hiding behind the wall. The 2 main cable types are low-voltage and powered. Low-voltage cables include HDMI, audio, ethernet, USB, and more. These cables can be run behind the wall without issue.
Powered cables can be tricky. Technically, you need to use in-wall rated power cables to keep your house compliant with fire code. Why does this matter? If you aren't up to fire code, and the cables start a fire, your insurance company won't foot the bill. While we can't stop you from putting a regular power cable behind the wall, we really recommend you use an in-wall rated cable. That's why we made a few versions of a mounted TV cable management kit that is both in-wall rated and built to pass low-voltage cords. It's the perfect solution for connecting & powering all your TV components safely. Take that State Farm!
Now it's time for you to pick your favorite shape. This circle version is a low-profile option with one plug and room for a few low voltage cables. The circles can be placed up to 5' apart on the wall. If you've got a simple setup that doesn't require a ton of cables, it's a great option.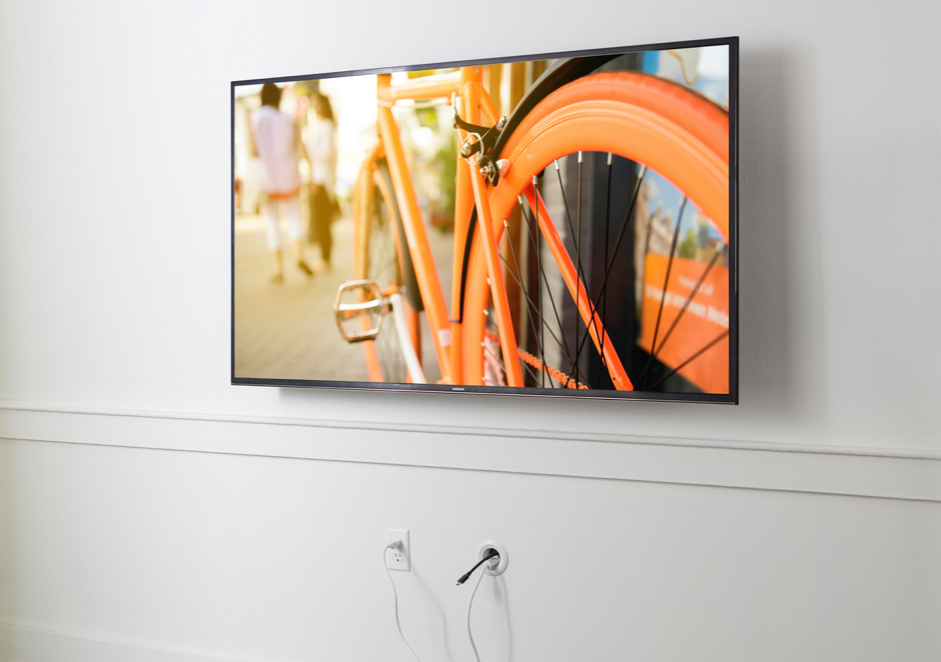 More of a rectangle person? With 2 power plugs, a wider low-voltage pass through, and optional USB ports, this is the ideal kit if you've got multiple components to power. It is a bit larger on the wall but has more room to connect bulky plugs. It can also be placed 6' apart for added flexibility.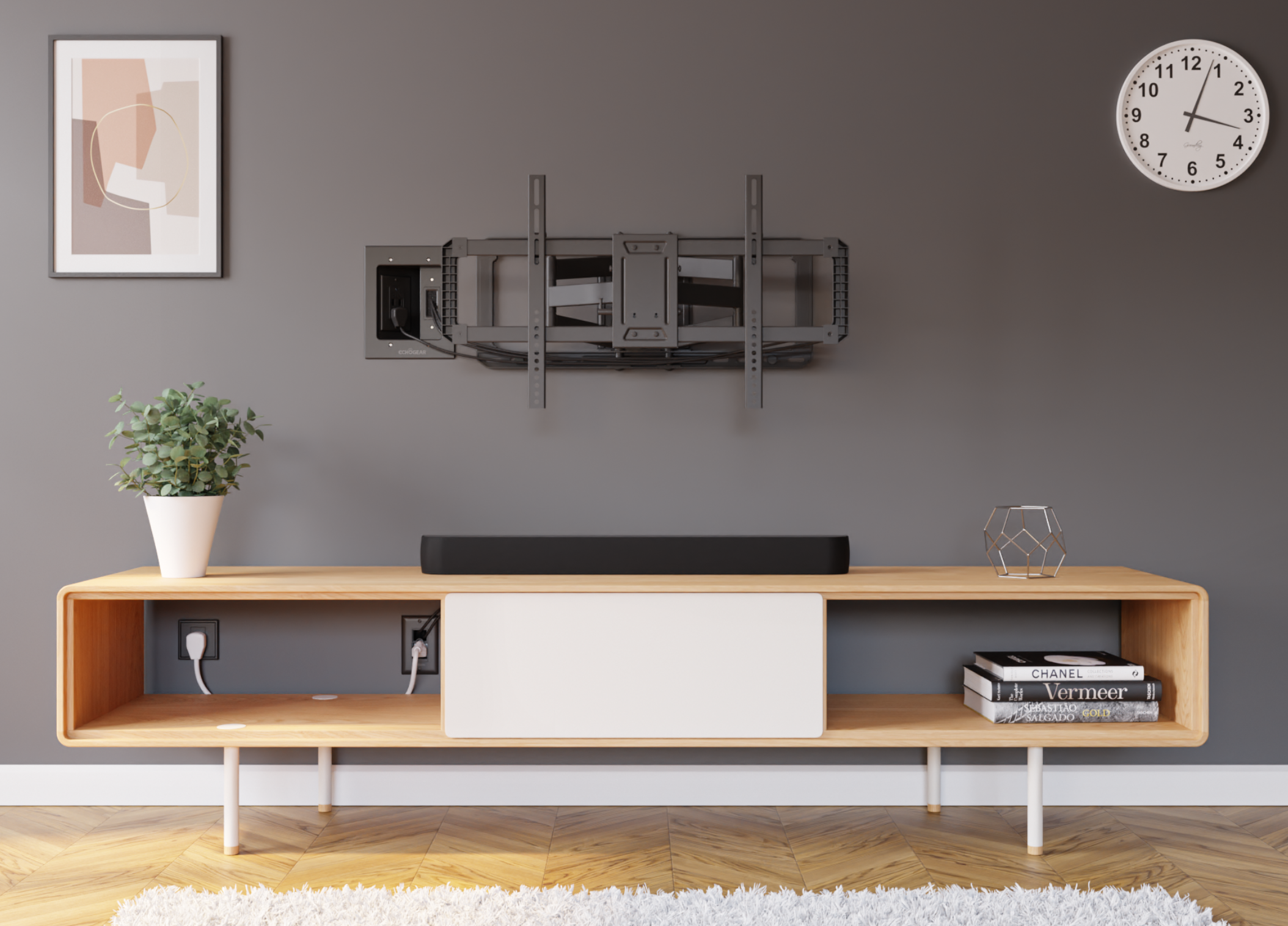 *Note electrical code may differ by country, our in-wall rated products are safe for the US folks but double check with your country's protocol before purchasing.*
Have a soundbar mounted to the wall under your TV and don't know what to do with that wire? We've got your back. For the best way to hide your TV and soundbar wires behind the wall, check out this piece of work. It has the same circular modules at the top and bottom as before, but also includes a slim rectangular port that can power & hide your soundbar cables.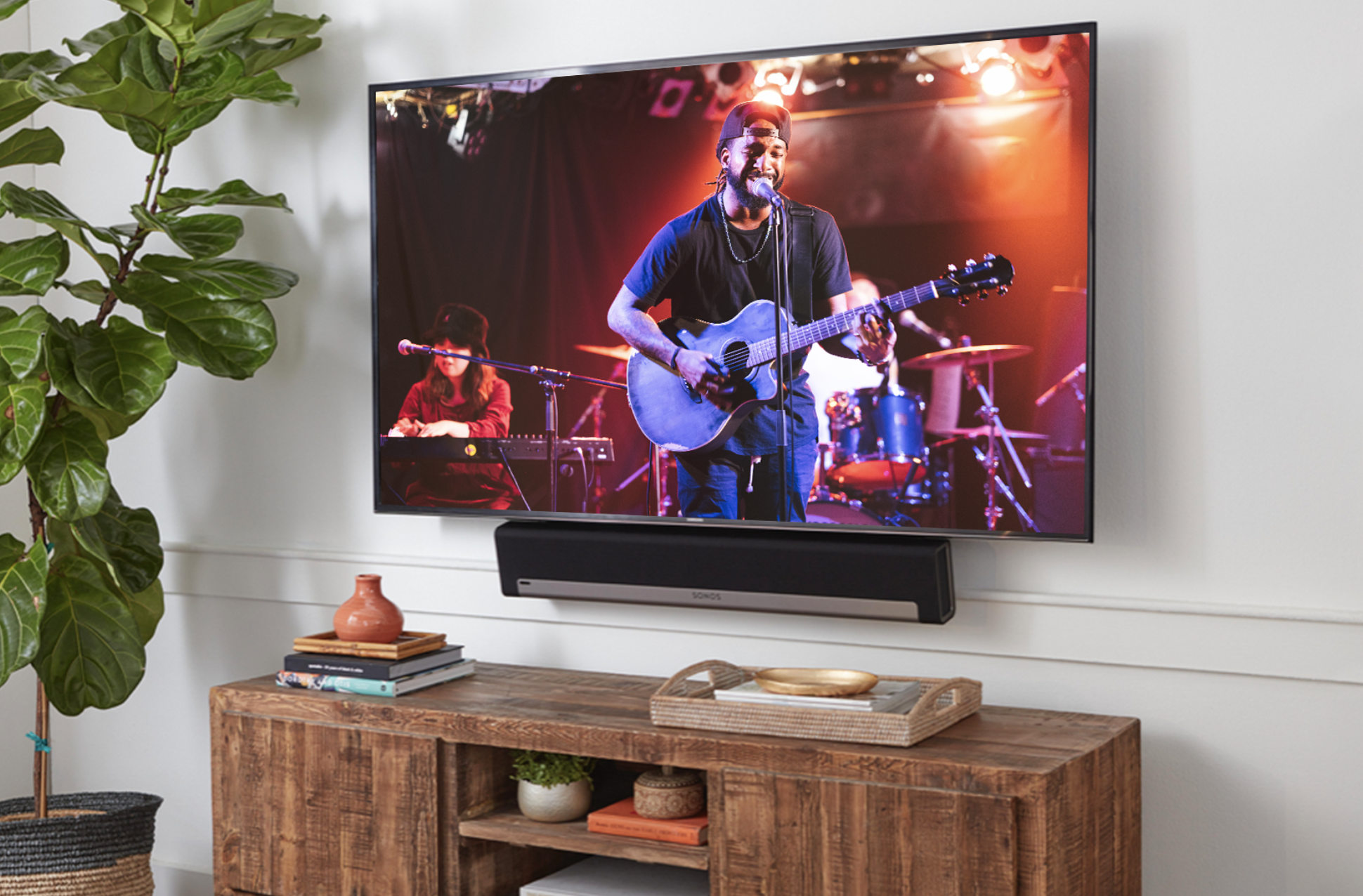 All these kits come with the saws and cutting templates you'll need for install. That takes the guesswork out of hiding your wires. See, I told you anyone could do it.
Hide Low Voltage TV Cables Behind The Wall
Don't need to hide a power cable behind the wall? These in-wall grommets cost significantly less than their powered brethren, but still hide your low voltage TV wires. As a reminder, low-voltage cables (also known as structured cabling or network wiring) are designed to carry 50 volts or less. In the AV world, that's anything that connects your components together. Think HDMI, surround sound speaker wiring, and ethernet cables. You can safely place these in your wall without falling out of fire code.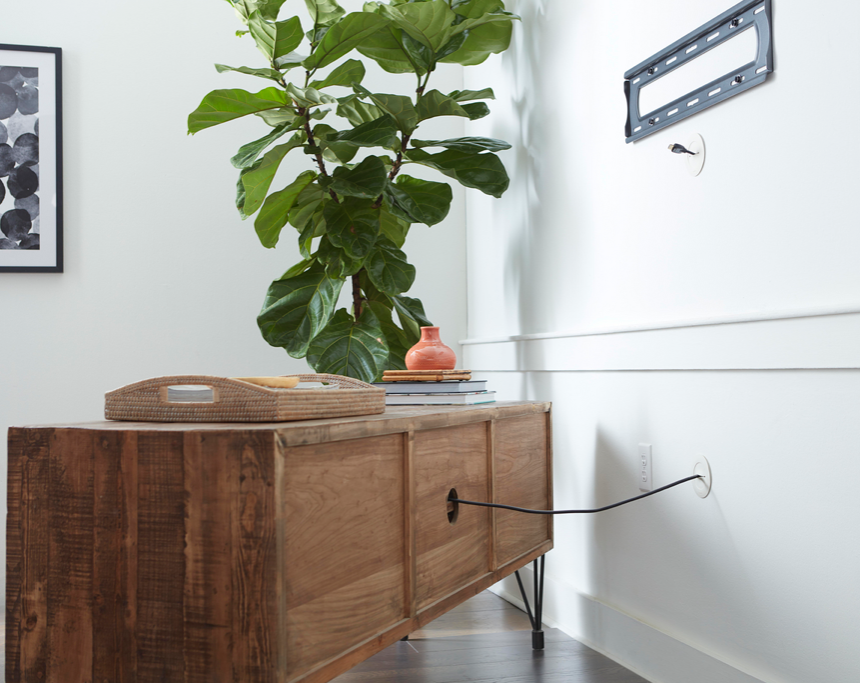 Hide Mounted TV Wires On The Wall
Landlords rejoice! On-wall cable management is a great alternative to in-wall, leaving you with organized cables and less wall damage. These solutions are easy to install, using small screws or strong adhesive, so no need to cut into your wall. All you need to do is gather your cables through the raceway and snap on the cover. While they're not as sexy as the in-wall options, these still do a great job concealing your mounted TV cords with half the effort. Plus, you don't need to worry about fire code. Any cable can be safely hidden in an on-wall cable channel.
We have 2 options for hiding your TV cables on the wall. The first is a wide single channel designed to take your cables from the TV down to the floor. It's 48" long but can be cut to any size to perfectly conceal your wires. Once it's attached to the wall with the included screws, wrangle your cables through the channel and snap on the cover. That's all it takes to hide your wires. You can even paint the cover to match your wall, so it blends in even more. Visual learner? Let the dulcet tones of Rob Boss show you the way:
If you need to route your cables somewhere other than straight down, check out the raceway kit. It's like building a Hot Wheels track and will transport you back to 1999 when everything was awesome. It comes with 12' of cable tunnels that adhere to your wall. Just grab a level to make sure you're going in a straight line. Now all you need to do is open the channel, add your cables, and snap on the included corner pieces. Slap some matching paint on the raceway if you have it and you're done!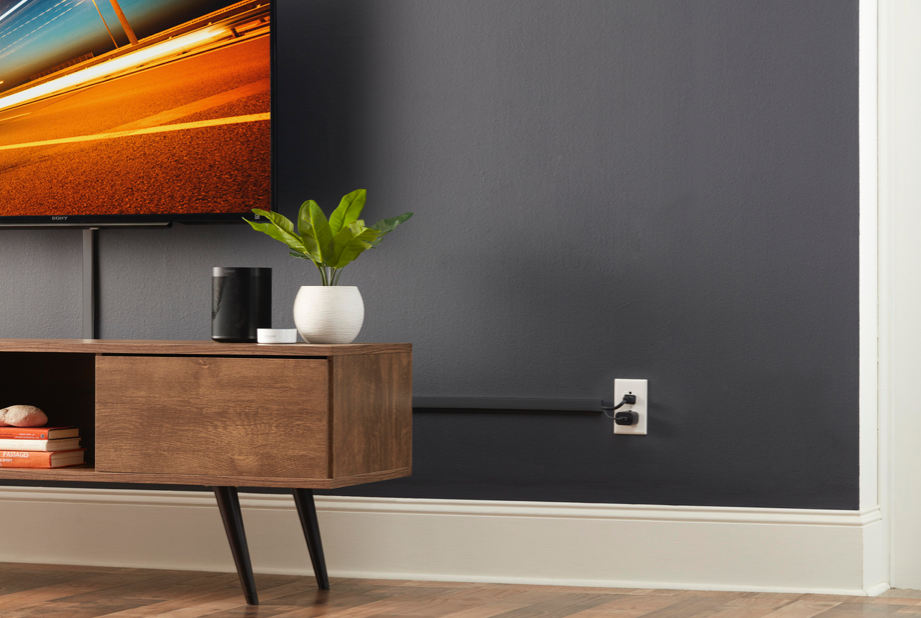 Don't have any paint but want to hide your cable concealer? Try placing a large houseplant or piece of furniture near it to block the view. If you have white baseboards, you can also run the tunnel along that to keep it out of sight. Regardless, this kit will look way better than dangling cords and keep your home organized and safe.
Final Thoughts
If you made it to the end of this blog, congratulations, that was a long one... But hopefully you learned a thing or two about cable management and feel confident in your next DIY. Regardless if you choose on-wall or in-wall, just get those cables wrangled! And remember, if you run into a problem, call the ECHOGEAR pros. We will help walk you through your install in no time so you can enjoy that glorious cable-free view of your TV and binge watch that next season of Ozark.