Between watching Shaq play Street Fighter (terribly), and blasting zombies in a wireless VR environment, gaming accessories were out in full force at CES 2018. In fact, the only thing there was more of is drones. So. Many. Drones. If you've never been to CES, it is massive, so we while we definitely didn't get to see all the gaming products, here are some of our favorites:
While any VR does a great job helping you forget life's responsibilities by transporting you into a virtual world, there's something about wireless VR that is even better.
Enter TPCast. Technology that turns any major VR system into a wireless one. With a 50:1 compression ratio that would make the Pied Piper guys blush, video data can be transmitted faster with latency as low as 1ms. Supposedly it can easily handle content up to 8k, which is pretty unbelievable for wireless transmission. Instead of worrying about tripping on cables, you can walk around freely in-game, and in our case, headshot some zombies.
It was a truly freeing VR experience. TPCast had an entire room setup where your squad could blast zombies, so of course, we gave it a test. After leading us into a cube-room, they hooked us up with HTC Vive headsets and blasters.
It was a pretty sweet game, basically, we tried to survive as long as possible against waves of zombies. The only trippy thing was the location of my teammates in the real world did not match up with their virtual locations. I did my best John Wick impression, but eventually, our virtual brains were devoured by a hungry horde. Brad (the dude on the right) blamed a faulty blaster, but quite frankly I think he felt bad for the zombies and didn't want to shoot them. He's a good guy like that.
While we failed pretty hard at the game, the technology is solid. I didn't notice any lagging or image tearing issues. It's a shame there weren't more games to try, this technology has really good possibilities. The future of VR is wireless. I'm going to trademark that phrase.
---
PlayTable - a technology upgrade for your favorite board games. PlayTable was my favorite gaming product at the show. Board games are the mad note, and this takes them to the next level.
Play any board game on the PlayTableStore, on a giant tablet. Featuring a full HD 24" touchscreen with wide viewing angles, the PlayTable runs on the Android operating system and is packed with features. You buy and read books digitally, why not board games? Buy any compatible game in the PlayTableStore, with instant access to expansions and updates. Playing with new people is easier than ever, interactive tutorials replace dusty rulebooks so you can start the game faster. Moved out of state? Game night can still happen. Extend the game to phones and tablets to play with people all over the world.
Even when playing locally, you can use your phone as a private place to hold your cards. In Settlers, your resources, development cards, and victory points would all be accessible on your phone. It is the same game, just without all the physical pieces. Now you can just bring your PlayTable to your parent's house for Christmas instead of a huge stack of games. If you are an avid board gamer, or just like cool tech, PlayTable is legit. 2 legit 2 quit.
In addition to standard board games, trading card and miniatures games get a huge enhancement. Play physical character and spell cards on the screen and the game springs to life with animations and sounds. Imagine playing Yu-Gi-Oh! like Joey Wheeler in the show with live spells and attacks. I don't know what game this is, but how fricken sweet is it??
Hear it straight from the PlayTable CES booth:
On Indigogo, you could've gotten one for under $300, a steal, but that price is sure to go up once the PlayTable releases. All I know, is I need one. Feel free to donate to my PlayTable fund.
---
RAZER, whose tagline is "For Gamers. By Gamers." tells the story. They make a ton of great gaming products. It was tough to pick just one to talk about, but here we go.
If you don't like to play with headphones on, these stereo speakers look awesome and sound great for both games and music. Built with woven glass fiber drivers lined with rigid rubber, get full, deep sound with crisp audio layers. Plus, rear-facing bass ports produce desk shaking lows. Easily tune Nommo's for gaming and different music types. The new Pro version was on display at CES, which is $499. It has a bunch of upgrades from the currently available models. From sound quality to control pod to Dolby Virtual Surround sound, they are premium speakers, and they look awesome.
For $99, you can get the base RAZER Nommo model. But if you've got an extra $50, the Chroma edition has built-in lights around the speaker base. Choose from 16.8 million colors, or use the ambient light setting that reacts to your gameplay. As a sucka for LEDs, the Chroma version has my heart. I love the look of these speakers, they make an awesome addition to any gaming battlestation.
---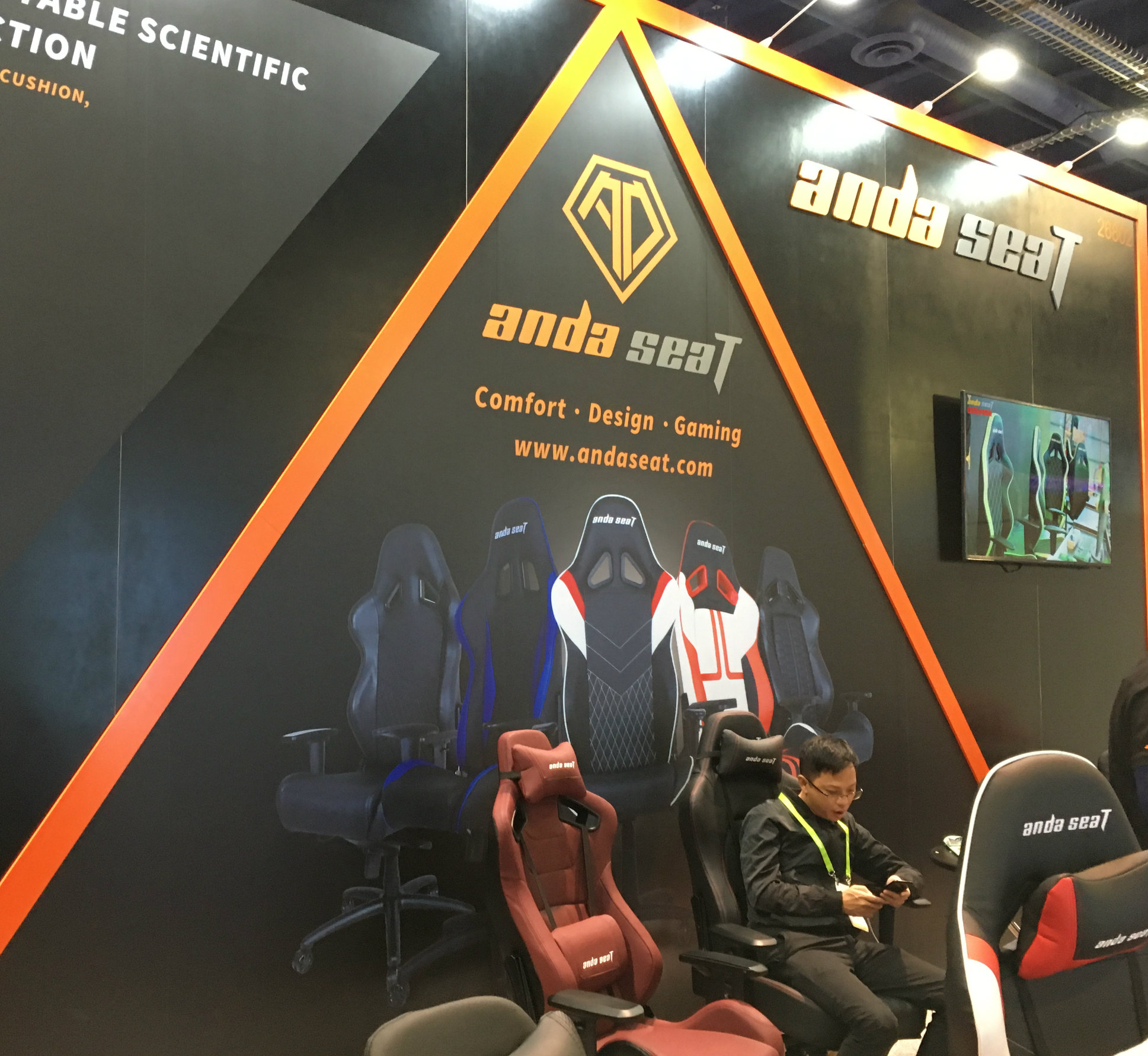 For any prolonged gaming session, a gaming chair is a must. Built for support and comfort, they'll keep you going longer. Anda Seat just started selling on Amazon, so we gave them a shot.
These chairs feel sturdy, extremely supportive, and are very adjustable. No matter how you prefer to sit, close to the screen or reclined, these chairs have you covered. Adjust the armrests, height, and backrest for the ultimate in gaming comfort. Head and lower-back pillows are removable for further customization. Complement your gaming setup with a variety of colors and designs, personally, I like the Orange Spoiler edition. Just check out Brad's ultimate comfort in the Anda Seat, although staying out until 4:30 am might have had an effect on him.
Sure, these chairs aren't cheap, starting at $230, but if you are looking for a high-quality gaming chair to help prolong your sessions, check out Anda Seat.
---
Bonus: Celebrity Street Fighter Tournament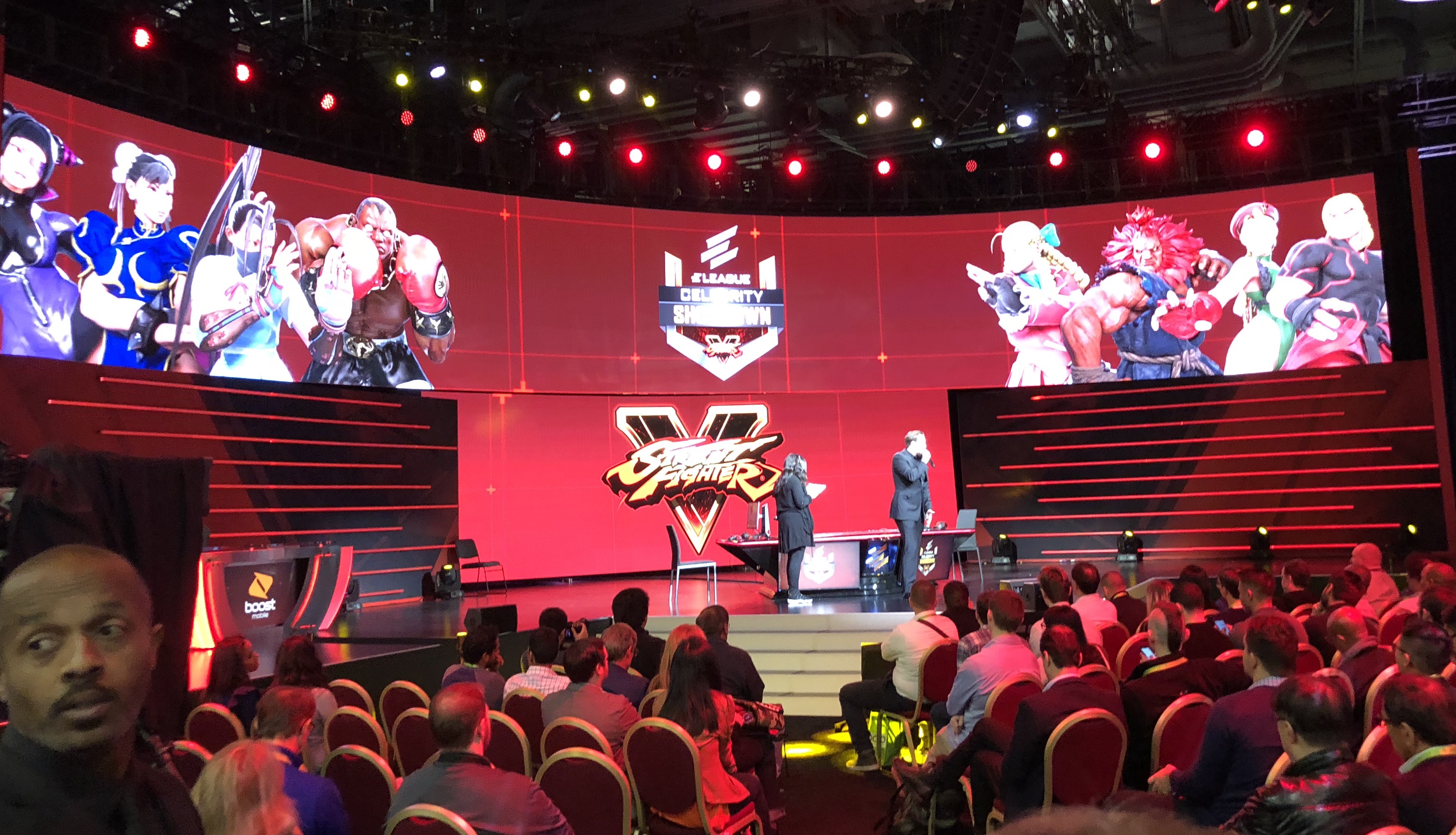 As we strolled the show floor, a giant Street Fighter logo beckoned to my 1996 self, so we decided to check it out. It was the Celebrity Street Fighter Showdown that aired on TBS. Baron Davis, Jimmy Rollins, Shaq, and the loquacious Natalie Eva Marie squared off for the title. From the start, Baron was my dude because he chooses a character from the old game, Chun-Li, and not one of the unrecognizable new characters.
While the gameplay (outside of Davis) was pretty terrible, the trash talk made watching the tournament worth it. Not to mention I never thought I'd watch Shaq play any video game. Baron Davis rolled Jimmy Rollins, and Shaq got crushed by Natalie, which set up a pretty anti-climatic final. Natalie had a few go-to moves she would continuously use, while Baron used counters, combos, and super attacks to easily dispatch Natalie and win the tournament. It was the first eSports events I've seen live, and would definitely be interested in seeing a real tournament sometime.
These are our favorite gaming products at CES. Despite our 100,000 steps walked, we were sure to miss some so don't freak out if we skipped something cool, comment below.