Wendy is a fricken babe. She is the proprietor of our favorite fast food joint and it's not close. Good luck to any clown (looking at you Ronnie McDonnie) who thinks they can beat the 4 for $4, the Biggie Bag, and the still legendary Frosty. And just when we thought it couldn't get any better, she lays breakfast on us. You know, fast-food breakfast, which is breakfast food in its finest form. The type of breakfast which can get you amped for an early morning road trip or snap you out of a stage 5 hangover.
Oh, and this isn't just another half-ass fast food breakfast menu, they've put in the man-hours to develop something worth crushing just like our boys Dale & Brennan did with Prestige Worldwide.
I like to imagine the Wendy's development team really getting after it. I'm talking about downing coffee & smoking heaters like a 70s cop about to break the case of who shot his partner. Breakfast is a serious matter, and as always, Wendy's isn't messing around. Prepping for the breakfast launch, they've been stealing the souls of their fast-food brethren on Twitter :
That kind of social media zest really gets us fired up. Plus, Wendy's dropped 20 million into this breakfast launch, and now it's our turn to help out. We hit Wendy's the second it opened to get the freshest breakfast & avoid a line. Which was a great success since we were the only people there. But that meant we could BS with the manager a bit and get the hot insider takes on which items were a must-have.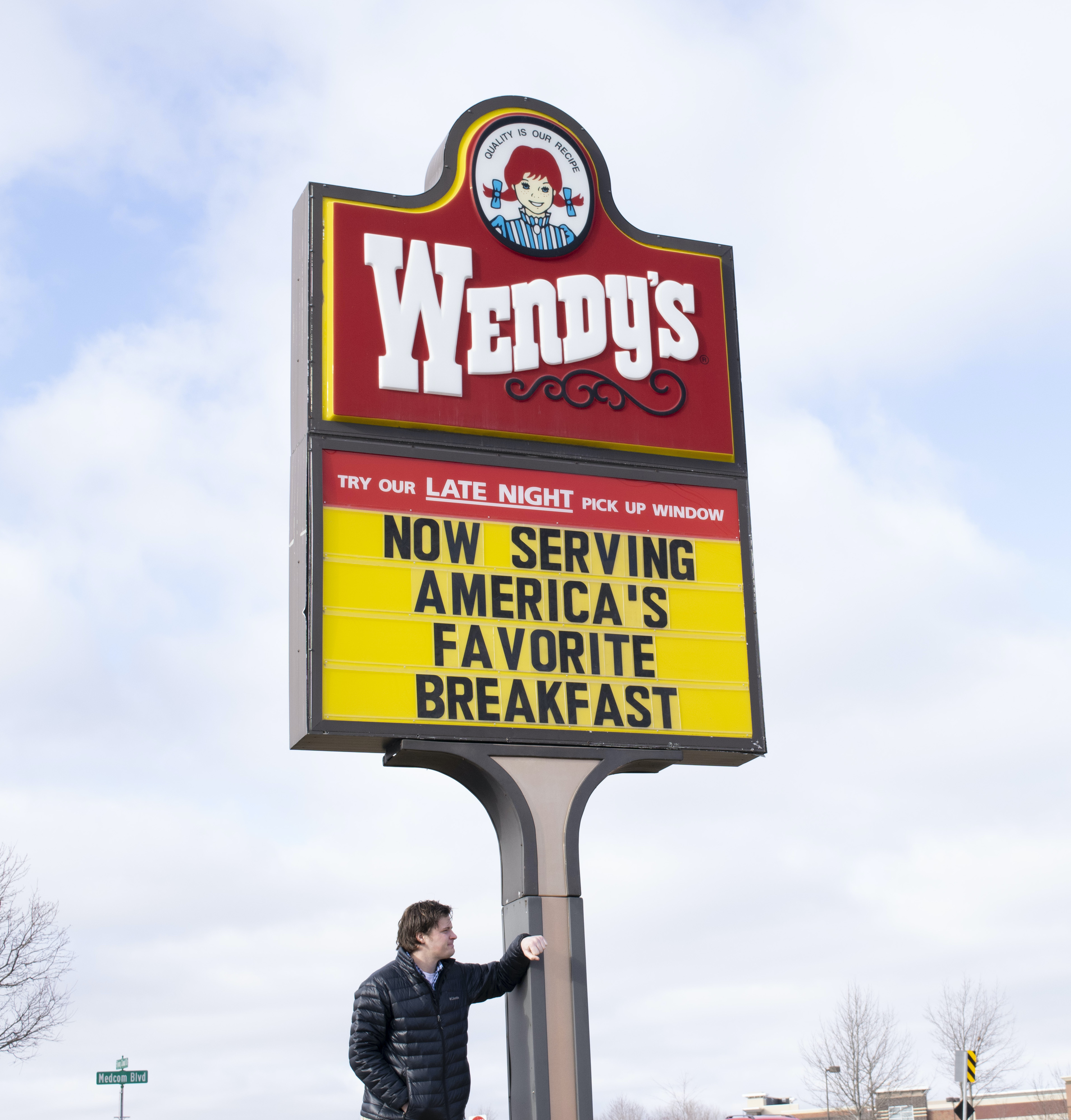 Here's our review of the top items on the menu. There are a few key takeaways from all the Wendy's breakfast items. First, they aren't nearly as greasy as other fast-food breakfasts. Second, all the flavors are tasty, well balanced, & worth your money. Now, let's dive into each item we tried.
Wendy's Frosty-ccino
Every good breakfast includes coffee, and that's non-negotiable. Frosty-ccino's are the mecca of fast-food coffee options. Here's how they describe it:
Smooth, cold-brewed coffee swirled with our legendary chocolate Frosty mix and served over ice.
At first read, it sounds like a sugar bomb, but it's a perfectly balanced iced coffee. The cold-brew base gives an overall smooth taste & then you get a nice hint of chocolate or vanilla Frosty. In short, the Frosty mix accents the coffee in such a way...It's more of an aftertaste than anything, and what an enjoyable aftertaste it is. After crunching the numbers, we decided that vanilla is the better flavor, so start there. I just realized that we effed up and didn't ask for a "twist" Frosty-ccino with both flavors. Damnit. Either way, the Frosty-ccino is an easy homerun, like 2017 Astros easy.
Score: 10/10
The Breakfast Baconator
Whenever a food includes the word "Baconator" it's hard not to get stoked on it. My heart flutters just at the mention of it. While that may be a dangerous palpitation thinking about all that fat, it also might just be excitement. Hard to say. Whatever the case, the Breakfast Baconator is a rock-solid entry into the fast-food breakfast gauntlet. Here's what's on it:
Grilled sausage, American cheese, Applewood smoked bacon, a fresh-cracked grade A egg, (deep breath) more cheese and more bacon all covered in swiss cheese sauce. Don't just break your fast. Destroy it.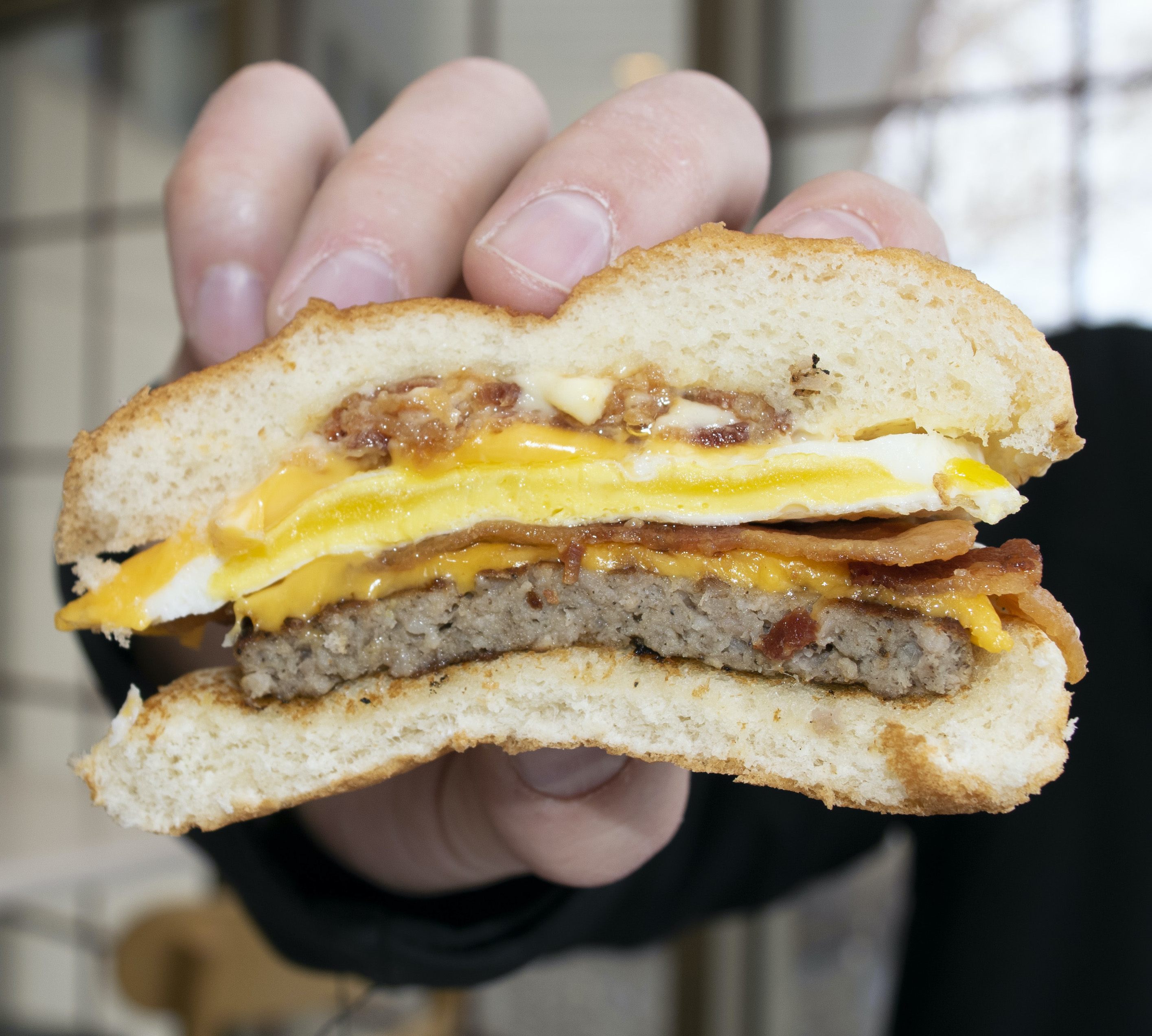 That's a lot of breakfast all packed into one sandwich. Think of this as one of two things:
The perfect brunch sandwich. If it's 10 am and you haven't had breakfast, this thing will hold you over for hours. It's dense with meat, egg, and cheese, but is brought together on a soft bun. That bun really brings the sandwich together.
A hangover cure, but possible day ruiner. If you crush one of these right away in the morning to kick a hangover, it'll get the job done. Just look out, all that meat & cheese has the potential to eff up your day. Long story short, be smart about when you reach for the Breakfast Baconator, it's a lot of breakfast, even for the most seasoned veterans.
Score: 7/10
Honey Butter Chicken Biscuit
Our main man at Wendy's (the manager) highly recommended this item, and he drilled it. While it isn't nearly as flashy as the Baconater, it's a dynamite breakfast sandwich that can go toe to toe with any chicken spot out there.
A crispy, chicken fillet, perfectly seasoned and topped with maple honey butter on a fluffy buttermilk biscuit. It's sweet, it's savory, and it's a great reason to get out of bed in the morning.
The Honey Butter Chicken Busicut excels in every area. It starts with a flaky biscuit that doesn't crumble in your hands. Some biscuits are so dense they'd make a great hockey puck alternative. But that's not the case with Wendy's version. It's perfect. Layer on the thiccc chicken breast with a perfect meat-to-breading ratio, and sweet but not overwhelming honey butter, and you've got a real winner. Sorry to get technical, but it's a flavor explosion in the ol' pie hole.
Score: 9.5/10
Maple Bacon Chicken Sandwich
Imagine the Honey Butter Chicken Biscuit got into an extreme but dangerous underground kickboxing league. That brings us to the Maple Bacon Chicken Croissant. It's got the same basic elements of the Honey Butter version, with a little more zap to its game.
A juicy chicken breast, Applewood smoked bacon, and maple butter on a flaky croissant bun. A little sweet. A little savory. A lot good.
If you like chicken and waffles, this is the Adam Sandler for you. When you unwrap it, the maple will sock you right in the face. Fortunately, eating the sandwich has more of a nice maple ambiance than an overwhelming flavor. Pair that with crispy bacon, and another well-made chicken patty, and you've got some serious style points. It's so solid it'll make you say Jabwow baby!
We have nothing but respect for this one, and if not for the Honey Butter Biscuit, it would've been our favorite.
Score: 9/10
Seasoned Breakfast Potatoes
Side items tend to be legendary (Taco John's Potato Oles) or completely forgettable (McDonald's hashbrowns). These seasoned beauties fall right in the middle. They won't be the reason you get Wendy's breakfast, but they tie it together nicely.
Natural-cut, skin-on potatoes cooked to perfection and seasoned with cracked black pepper and garlic powder.
Popping these taters in your mouth is a real delight, especially between bites of a sandwich to cleanse the palate. Don't let anyone tell you fancy eating techniques don't apply to fast food. With the generous amount of pepper and just enough garlic, these breakfast potatoes are winners. The insides are soft, the outsides are crispy, there really isn't much more we could ask of Wendy.
Score: 8/10
The Rest
We also tried the sausage croissant and biscuits and gravy. They both were fine but underwhelming. I'd write more about them, but honestly, just get some of the previously mentioned items & you'll have a better time.
Overall, Wendy's breakfast is an absolute hit. They've got a well thought out menu that is innovative, without being a gimmick. Compared to other fast-food breakfast joints, it's higher quality and a lot less greasy. With this type of grub, it's important to check how your body feels an hour after eating. We all felt like a million bucks, but that might have been the residual buzz from the Frosty-ccino... Long story longer, the next time you're in the mood for fast-food breakfast, look no further than Wendy's. To sort of quote the legendary Zac Brown Band, they've got everything you need, and nothing that you don't.