As the certified OG's of selling top-notch TV mounts on Amazon, we've seen our fair share of awesome DIY TV setups. On the other hand, seeing ugly dangling TV cables in reviews started giving us big-time heartburn. It felt like we just ate a pair of Arby's Mega Meat Stacks for breakfast. See exhibit A:
After a half-bottle of Tums had no effect, we decided to design some cable management options for your freshly mounted TV. Everyone deserves an HGTV style finish without having to watch Tarik and Christina awkwardly interact for even one second. I'm pretty sure those 2 are actually poorly programmed androids, and watching them makes me uncomfy. So with that in mind, we launched the best 5 DIY options we could find for hiding your TV wires on or behind the wall.
There are 2 main ways to hide your TV cables. The first is super easy and doesn't require many (if any) tools. You'll use on-wall cable raceways which means no cutting into your wall, but you'll still be able to see the cable channels. The second method is a little more involved but still pretty damn simple. You'll route cables behind your wall for the ultimate in TV wire concealment.
For Game Of Thrones fans out there, on-wall tunnels are like a castle-forged steel sword, and behind-the-wall options are Valyrian steel. Both good, but one is significantly better. Here's the basic difference:
How To Hide TV Wires Without Cutting The Wall
If your setup doesn't call for a completely clean wall this is an effective & budget-friendly way to manage cables. Both of these options can be bought for under $25, so just drink cold delicious Busch Light instead of fancy bourbon for one weekend and you'll have it paid for. Deciding which is right for you depends on your setup.
If you just need to cover wires from your TV straight down to an outlet, a single on-wall cable channel will do the trick. It pairs perfectly with a mounted TV and is easy to install. All you'll need is a screwdriver. It's got a large cable capacity so it shouldn't have any issues hiding all your cords. To unlock baller status, paint the channel to blend in with your wall.
This cable tunnel is 48" long, which is 80% of one Danny DeVito. Need it to be shorter? Bust out that hand saw you were saving for the zombie apocalypse and customize the channel length to your setup. Want to know the best part? It's made in America. F yeah!
Here's how to install this cable channel:
Measure how long you want the channel to be.
Cut it down to size (if necessary).
Use a screwdriver to secure it to the wall.
Put your cords in and snap the cover on.
If your setup is a little more elaborate and your cables don't just go straight down to the floor, we created a raceway kit that includes everything you need. There are 3 cable channels that are each 48", and various connectors to handle any turn, corner, or cable intersection. Want to know the best part? Baby got adhesive back (bad Sir Mixalot pun). These have an adhesive back that sticks right to the wall. You can leave the screwdriver in the toolbox.
All you need to do is plot the route for your cables, cut the channels down to size, and stick them to the wall. Once you place the cables in the raceway, put the cover on, and snap the angled connectors in place to create one seamless channel. The end result will be impressive and earn you at least 2 hours of Apex Legends time. Gibraltar is the jam.
Those are your best 2 options for hiding your cables on the wall, no drywall cutting required. Now let's take our DIY skills to the next level and hide them behind the wall.
How To Hide TV Wires Behind The Wall
As your home AV (and experimental fast food) experts, we recommend putting your cables behind the drywall. It isn't hard to do and can turn your TV setup from an eyesore to a dime piece. Having cables exposed is like your late-night karaoke singing, and hiding them is like auto-tune. It just makes everything better.
Once again, we like to give you options that best fit your setup. We have 3 in-wall cable management solutions. A cable pass through, a powered cable pass through, and a powered cable pass through with a soundbar module. All of these come with saw attachments for your drill to make the perfect sized hole, so don't worry about messing up the drywall. Save that for your friend Todd when he rages at the TV while watching football. Don't be like Todd.
You might be thinking "why do I need a powered pass through when I could just put my TV power cable through the wall". While we salute your ingenuity, putting a power cable through the wall is against fire code (unless the cable is in-wall rated). That could get you in some hot water if your TV ever caused a fire. Your insurance company will probably harsh your stoke and refuse to cover it...which would mean heading back to your parent's musty basement. So while you can do whatever you want, in the name of becoming a responsible adult, we'd recommend against stringing your current power cables through the wall.
For getting HDMI and audio cables from point A to point B behind the drywall, this is the cleanest option. After cutting perfect holes with the included saw attachment, the outer bracket will lock on to your drywall for a secure fit. Then you'll need to fish the wires from the top hole down to the bottom. You can get creative with how you do this. If it's an internal wall without insulation you can probably just drop them straight down. If there is insulation, here are some options to fish wire through the wall:
1. Be Lazy, Buy On Amazon
If you are flush with extra funds and want to buy the best selling wire fish tape on Amazon, give this a go. Our product guy Mark has one and he gives it 2 big thumbs up. It's certified Mark Plummer Jr. Approved:
2. Macgyver It
Depending on your setup, you probably can use some household items to get wires down the wall. You'll want something stiff enough to push past insulation, but not so inflexible that it can't be fed into the wall. If you have an extra wire hanger or use any thick wire around the house you can unravel it to make a simple wire fishing stick.
Protip: minimize snags by folding the last 3 inches of the wire back on itself and tape it down. The smooth edge is much easier to feed through insulation.
Once all your cables are through the bottom hole, pop on the covers and you're done. Painting them to blend in is up to you.
As we mentioned above, the only "safe" way to put power cables through the wall is with an in-wall rated powered pass through. In addition to having a slot for all your HDMI and audio wires, the powered pass through has a plug at the top and bottom for safe & sexy behind-the-wall electricity. It's almost as elegant as a behind-the-back pass from my favorite former Minnesota Timberwolf Ricky Rubio. I miss you, Ricky. It also comes with an extension cord for the bottom plug so you can reach a nearby outlet to safely power your TV setup.
Install is basically the same as the pass-through kit, but you'll need to route the in-wall power cable between the brackets along with your AV wires. Note that the brackets can be placed up to 5' apart on the wall. If you've upgraded your TV sound with a soundbar, the next option may be very titillating for you.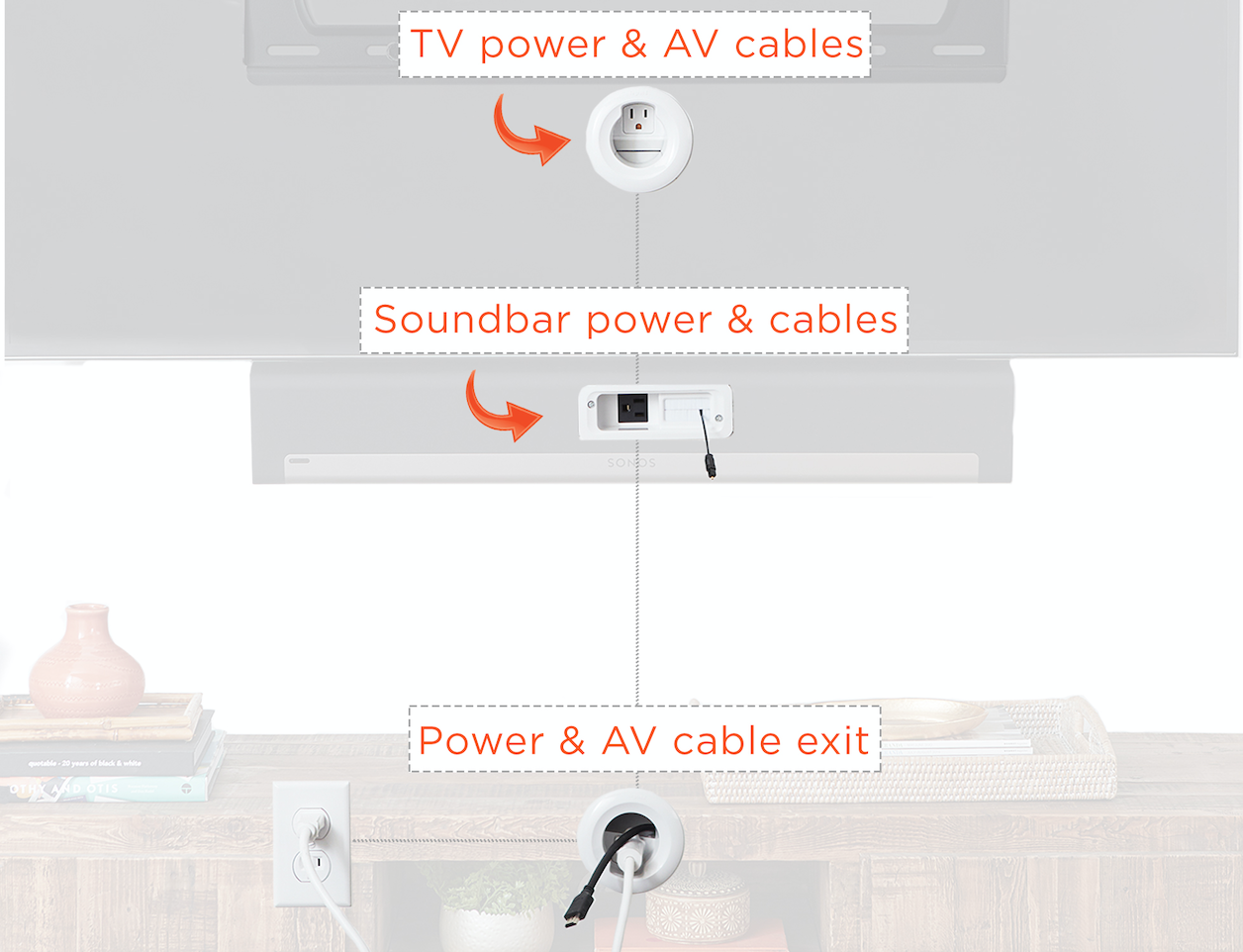 This is the pièce de résistance (we can be classy on occasion) to in-wall cable hiding solutions. This bad boy routes AV cables and power from a TV like the previous model but also has a module for soundbar power. It's perfect if you've got your soundbar mounted to the wall or TV. Have a SONOS PlayBar or Beam? Hiding the cables will help maximize it's suave look.
In addition to the circular saw drill attachment, it comes with a drywall saw that also works great for doing karate in the garage. Those pumpkins won't stand a chance! Using the included template, you'll use the saw to cut a rectangle hole in the wall behind the soundbar. Once the soundbar module is installed, you can plug it in right there and feed the sound wires up to the TV. It'll make the soundbar look like it's completely wireless, be ready for your friends to ask where you got it.
And there you have it. The 5 best ways to hide your TV wires either on or behind the wall. If you're not 100% sure what would work best for your setup, comment below or hit up our world-class customer support team. They're available 7 days a week and due to the Minnesota winter weather we don't want to go outside anyways.