Fueled by overpriced breakfast and big glasses of iced tea, we walked over 100,000 steps at CES this year, all in the name of showing you our favorite new tech. Did we see all the products at CES? No. But we found some pretty damn cool stuff. We focused on things you might actually buy rather than sci-fi prototypes that will never see the store shelf. Here's our favorite stuff:
Warning: apparently the FAA banned these from flights recently, so while it is super cool, don't buy it if you want to take it on the plane. I barely take responsibility for my own actions, I certainly am not going to deal with your problems if they don't let you board your flight.
If your parents keep telling you to grow up, and you keep telling them to mind their own business, then we have the luggage bag for you. Modobag is a rideable carry-on that looks like your luggage bag did the nasty with a Razer Scooter. Did your doctor tell you to get more steps in? Forget about it! Get off your 5-hour flight and ride in style to your waiting Uber. You are really good at sitting.
All jokes aside, this is a sweet gadget. Easily telescope the handlebar down to fit it in the overhead bin, and back up when you need a ride. Built-in foot pegs make the bag a little less awkward to ride and keep you from tipping over. There isn't as much space for your stuff, but you can't really complain because it's a miniature vehicle:
With a top speed of 8mph, you could have a pretty epic race with a standard house mouse (8.1 mph top speed). That cheese is as good as yours. Go up to 8 miles on a single charge, and recharge in only an hour. If you're interested in a pretty lame demo of me riding the Modobag, then you're in luck!
I'm going to keep 100 with you. I didn't look at the price before adding this product to the blog. It clocks in at a hefty $1,500. If you've got that kind of cash laying around, remember to buy with caution, you might not get the Modobag on a plane.
---
Mobile phone projectors are nothing new, but Kodak has perfected the tech and impressed us at CES. While they might not have made the "Best New Tech" blog on their own, the power went out during our interview so we kind of had to put it on the blog.
Now I'm no CSI expert, but I think Jim The Juggler was behind the whole power outage. Don't you think it's a little convenient to just happen to have light-up juggling pins...You won't get away with it this time Jim! In the immortal words of Horatio Caine...
Anyways....The color of these projectors absolutely popped, and the 854x480 resolution wasn't as bad as it sounds. For such a small projector, the picture quality really was unbelievable. Instantly create a screen up to 100" at a distance of 8 feet so you can show off that video of you celebrating the Minneapolis Miracle.
Once the lights went out, we decided to make lemonade of the situation and get a look at just how good these projectors look in the dark. Brad was fiending for some In-N-Out so ignore his rabid behavior.
There are 3 models that range in price from $199 up to $279. Upgraded models have enhanced features like a wireless connection, built-in speakers, brighter projection, and an included tripod. I'd recommend choosing either the mid-tier Pocket Pico or the premium Pocket Wireless Pico. Getting 25% more lumens (100 vs 75) is worth the extra $30. If you are jonesin' to project videos from your phone on any flat surface, the Kodak Pocket Projectors are the way to go.
---
GoPro took home multiple CES Innovation Awards for excellence in digital imaging, which is no surprise here as GoPro has been the leader in video quality for action cameras since Harry Potter was gallivanting about the Chamber Of Secrets in 2002. That was so irresponsible. We swung by the GoPro booth to check out the freshly released HERO6 Black and learn about new Mobile OverCapture technology.
Mobile OverCapture works with the GoPro Fusion and is pretty incredible. It makes it easy to create great videos without a cameraman. Take 360º footage with the GoPro Fusion as you normally would...and then the magic happens. Edit the 360º video with Mobile OverCapture to create a new video from any angle in the existing shot. Create as many different videos as you want. Intuitive controls let you get the perfect shot, every time. It's like looking at instant replay on a video game. You can zoom, pan, and adjust angles to get the perfect video. But now, it's in real life. Get the perfect video of you shattering your tailbone trying to do that sick ollie. While other cameras can do something similar to Mobile OverCapture, GoPro is the first to do the stitching & exporting in 5.2k resolution, so you don't lose any image quality, making it a super useful feature. Check out the video from GoPro to see Mobile OverCapture in action:
In addition to Mobile OverCapture, we checked out the HERO6, because our cameraman Andrew is planning a mermaid hunting expedition this summer and wants to be prepared. If you have weapon suggestions for fighting mermaids, please comment below. Here he is pondering mer creatures: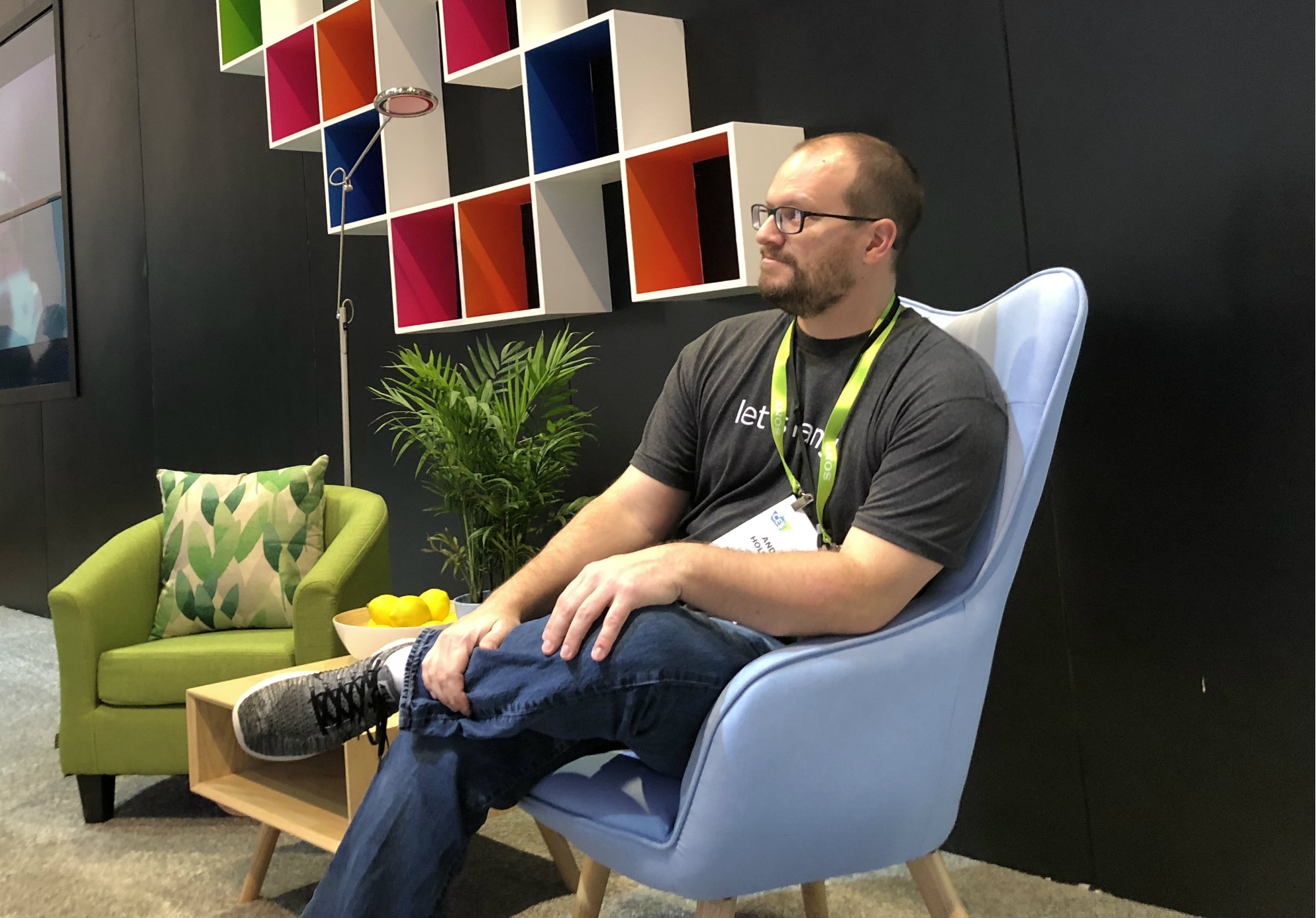 Clocking in at $399, the HERO6 is a solid upgrade over the HERO5. GoPro launched it's first self-made processing chip, the GP1 that delivers twice the performance of the existing chipset. The increased horsepower means you can film 1080p at 240 frames per second and buttery 4k at 60 frames per second. If you are looking to get the best quality and performance out of your GoPro, consider upgrading to the HERO6. It might not be leaps and bounds ahead of the HERO5, but if you've got an older model, now is a great time to upgrade and experience the speed and power of the GP1 chip.
---
Fresh off Indegogo is Tersa Steam - the best way to iron and dry clean your clothes in 2018. Quit wasting your time with that damn iron. Plugging it in, waiting for it to heat up, burning a hole in your favorite shirt.... Honestly, I only purchase clothes that are "wrinkle free" because the only thing an iron is good for is being a whimsical Monopoloy piece. Sure my wardrobe sucks, but at least I don't have to iron stuff.
But now that is all over! Tersa Steam works like your Keurig coffee maker. That sounds ridiculous but hear me out. All you gotta do is hang your shirt (or another garment) in the Tersa, insert a scent pod, and push go. In only 10 minutes your shirt will be fresh to death and wrinkle-free. Save all your dry cleaning money for Valentine's day, those flowers are a rip-off.
Keep your body guessing with different pod scents. Entering a rap battle? Choose Fresh Linen. Cooped up in the office next to stanky Kevin all day? Try Spring Breeze. There are multiple scents to match your mood, or even unscented if you want a crisp shirt while deer hunting.
By the way, shirts aren't the only garment you can freshen up in the Tersa. Shoes, jackets, undies, skirts, and more can be ready to rock in 10 minutes. From head to toe, you'll be wrinkle free and smell great, the opposite of an old man.
For a limited time, you can get a Tersa for only $299, which is an absolute steal if you frequently dry clean garments. Our resident dry-cleaning expert, Mark, says dry-cleaning could cost up to $500 in a year. Save the money, save your time, and amaze your friends by purchasing a Tersa.
---
I'm going to cut to the chase, the main reason we included Nima is because they were displaying Minnesota Vikings helmets, and we are die-hard Vikings fans. So naturally, we are adding Nima to our "Best Of" blog.
Beyond that, if you love sports and good speakers, these are a good purchase. Officially licensed by both the NFL and NCAA, the speakers are made into football helmets and other sports gear with authenticity at the forefront. With 4 different sizes of the football helmet, prices range from $30 up to $400. As you'll see in the video, the speaker has the highest wattage of like-sized speakers, so for great power in a badass package, look no further than Nima.
---
These were some of our favorite technologies at CES that you actually might want to buy. If we missed some, comment below and we can add them to the list.